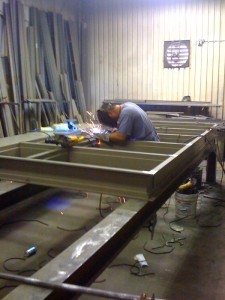 Mid-States Door & Hardware carries a full range of metal frames and doors, wood doors and architectural hardware. Our knowledgeable sales staff has over 114 years of experience in the commercial building industry and is happy to assist you with your construction projects. Our industry-trained, experienced staff can work with your architect, owner and contractor to make certain that all Federal and State mandated specifications are covered.
Mid-States Door & Hardware can fabricate standard and custom hollow metal frames and doors in its own shop. Most of the time this material can be ready within 24 hours, depending upon quantities and availability of material.
Our product line includes: 12, 14, 16 & 18 gage doors and 12, 14 & 16 gage frames, knocked down and welded.
Having a UL certified facility allows us to fabricate products in house to ensure that all products meet building, fire and life-safety codes.
Mid-States Door & Hardware not only offers hollow metal doors and frames but can also provide specialty products, such as:
>>

Hollow Metal Sidelite Frames

>>

Hollow Metal Borrowed Lite Windows

>>

Pocket door frames

>>

Temperature rise doors

>>

Dutch doors

>>

Acoustical assemblies

>>

Stainless Steel Frames and Doors

>>

Fiberglass Frames and Doors

>>

Lead-Lined Doors and Frames

>>

High Impact Doors

>>

Blast Resistant and Bullet Resistant Openings

>>

Food Service Doors

>>

Insulated Doors

>>

Access Panels
These are only some of the specialty products that we offer but please contact us for all your construction needs. Just because it's not listed doesn't mean we can't get it! Mid-States Door & Hardware is also a distributor of Architectural Wood Doors from the top Commercial wood door manufacturers, such as Algoma, Eggers and Graham.  We are committed to our customers and to the environment. Our products can also assist building owners toward Leadership in Energy and Environmental Design™ (LEED®) by contributing to points in the Material and Resources category as well as Indoor Environmental Quality. For more onLEED® requirements please visit their website at http://www.usgbc.org/.